Message from Chairman: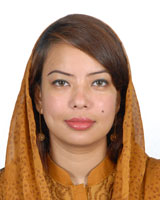 Dr Meherun Nessa Mitha Chowdhury

Chairman
Next Plan Development Limited

Today Bangladesh stands on the juncture of economic emancipation. The stage is set for rapid growth and development in every sector of the economy. The Real Estate sector is also experiencing significant changes. 'Professionalism' is the key word for success nowadays and in the years to come only those companies which have a total commitment to this sector will thrive. Next Plan Development Ltd has set a vision for our respected clients to play a leading role in the development of engineering consultancy and in the Real Estate sector in the twenty-first century. Over the past years we have worked towards building a strong foundation and establishing a professional corporate identity for our company.
Today, in the field of consultancy and in the Real Estate Development, NPDL is a recognized & trusted name, respected for its achievements, professional ethics and innovative concepts. Next Plan Development ltd has been established and is run by a set of enlightened individuals who are socially responsible. The success of Next Plan Development ltd is due to hard work. We believe hard work deserves to be rewarded. Thus we are involved in developing a lifestyle that you deserver and that will serve as a social motivator to others to work hard and succeed.
Our corporate philosophy is however based on a very simple principle "Give the customer value for money". To this end, we are constantly working towards upgrading and improving every aspect of our activity. Be it the quality of our architectural designs or our after-sales service, the emphasis is to keep on improving. It is because of this unrelenting quest for excellence that we have earned the goodwill of so many of our customers. Inshaallah, with the blessing of Almighty Allah (R) and good wishes from our beloved customers, we will be with you in future as we are at present.
With Best Regards