Ali Complex
at
Lamabazar, Sylhet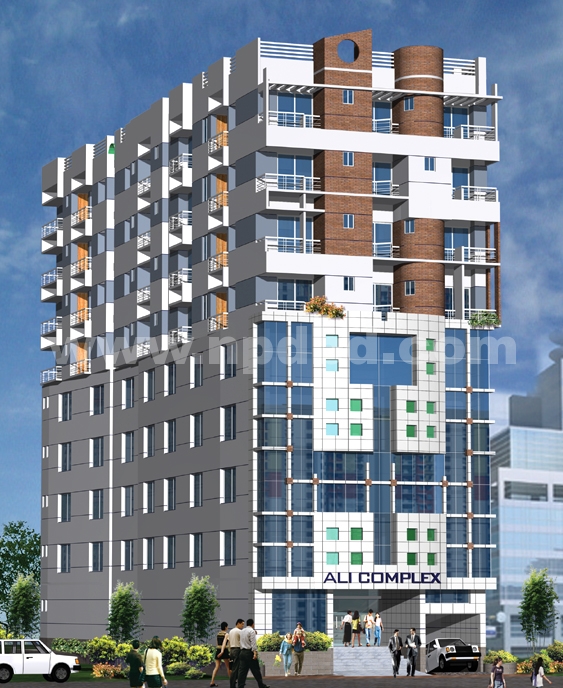 More Details:
Project Details
Project Name:
Ali Complex
Building Type:
Commercial Cum Residential
Client:
Hossain And Associates
Location:
Lamabazar, Sylhet
Height:
107'-0" FT
Construction Area:
54558 SFT
Ref ID:
131
Work Status:
Completed
Service Provided:
Architectural Design
Structural Design
Electrical Design
Plumbing & Sanitary Design
Graphic Design
Full Time supervision
Fire Fighting System Design
3D Modeling
Cost Estimation
Description:
"Ali Complex" is located at the prime location of sylhet city. This project is situated at VIP Road, Lamabazar. For pleasure and comfortable living, location of the house require to have some significance, keeping this reality is mind "Hussain Associate" has under taken the project named "Ali Complex", the most prestigious location with beautiful panoramic view all around. There is a wide parking provision in basement of the project which is easy and convenient for exit all kind of vehicles. We have kept in mind the functionality of each individuals unit of apartment, Departmental store, Office space and our attention to detail is immediately obvious in the gorgeous architecture. You will be able to realize even before enter the complex. Your investment on purchase of an apartment, Office space or Departmental store is the investment of a life time and one that will transform not just your life, but the lives of your children and their children for generation to come.

Location: Ali Complex is a unique architectural beauty standing on the very important location near Lamabazar point. It is within walking distance to Lamabazar police station, Modon Mohon College, Sylhet Stadium, Kazir Bazar Bridge, North East Medical College & Hospital. Bangladesh Bank, Sylhet Circuit House, Office of Police Super, Divisional Commissioner, District Judge Court are about 10 minutes drive way from Ali Complex. Sylhet Osmani medical college & Hospital, Judge Court Point, Osmani Children Park are within 20 minutes driving distance. Road communication is well connected with Shajalal University of Science & Technology, Sylhet MC College & Govt College , Agriculture University from Ali Complex.



Structural Feature: Structural Design Based on Bangladesh National Building Code (BNBC), American Concrete Institute (ACI), American Standard Testing Material (ASTM) code . Structure has been designed considering earthquake zone in recent BNBC code. R.C.C. frame structure with pile foundation Reinforced cement concrete floor slab.

Construction Materials: Steel: BSRM Extreme 500W Cement: Best quality high compressive strength cement will be used. Brick: Best quality no-1 brick will be used. Course Aggregate: Best quality stone chips ¾" down Volagonj & Jaflong stone will be used. Fine Aggregate: Best quality Sylhet sand will be used.


Security System:

1. Spacious entrance and driveway with 24 hours security arrangement to control of incoming and outgoing person Vehicles, goods etc.
2. Main lobby and reception area in secured premises with an impressive concierge desk completed with Intercom & CCTV, PABX service system to all flat.
3. Arrangement for 24 hours fire fighting equipment.


Electrical:

1. Concealed wiring with super quality cables & switches. Fan, Dimmer & electrical fittings excluded.
2. Meters: All apartments will have independent Gas and Electric meter.
3.Intercom & PABX: Intercom & PABX service system connection each flat from Reception desk.
4. Cable Line/AC: Provision for satellite dish/TV antenna system. Concealed cable outlets in living room & master bed (connection not included).
5. Telephone Line: Telephone socket outlets in master bed and living room.

Walls & Plaster:

1. 125mm thick solid brick walls with well burnt 1st class bricks.
2. Proportion 1:5 using 100% sylhet sand to avoid salinity.
3. Sand cement plaster using washed clean medium sand. External plaster shall have admixture to protect dampness.

Floors: Floor tiles (Fu Wang/Rak) in all rooms.

Paintings:
1. Interior: Distemper & plastic paint of Berger Robbialac of elegant color.
2. Exterior: Weather coat / snowcem paint of Berger Robbialac or equivalent of elegant color.

Bath Rooms:
1. Good quality standard sanitary fittings.
2. Glazed tiles (Fu- Wong / RAK/CBC) up to ceiling height in all toilets wall.
3. 300mm x 300mm homogeneous tiles (Fu-Wang) in all floors.
4. Provision for Hot & Cold water system with head shower in master bathroom (geyser excluded). Good quality local made fittings.

Kitchen:
1. 300 mm x 300 mm homogeneous tiles (Fu-Wang) in floor.
2. Ferro cement work top with homogeneous tiles (Fu-Wang).
3. Plastic paint, glazed tiles (Fu-Wang) up to 2'-0" above the work top.
4. Single-bow single-tray stainless steel sinks. Double burner gas outlet. China origin good quality exhaust fan with cover.

Doors:
1. Frame: Shil karai / Telsu wood with lacquer varnish.
2. Shutter: Entrance door of solid wood imported from Malaysia / Indonesia
With i) Door Chain, ii) Check viewer, iii) Apartment No. plate (brass) v) Mortise lock.
3. Internal doors shall be of teak chamble veneered partex with lacquer varnish.
4. Toilets will have imported UPVC / plastic wood shutter with frame.

Windows: Sliding aluminum windows with 3" standard BTA anodized Sections with 5mm clear glass (imported) complete with lock, roller & mohair lining.

Others general facilities & amenities:
1. Elevator : 2 (two) Superior qualities high speed Elevator.
2. Stair Case: 2 (two) Stair case one for commercial space with modern fittings and comfortable free space.
3. Generator: Standby generator service during load shedding.
4. Basement is covered and protected & is reserve for Car parking for residents with comfortable driveway.

Location Map: