Star Plaza
at
Zindabazar, Sylhet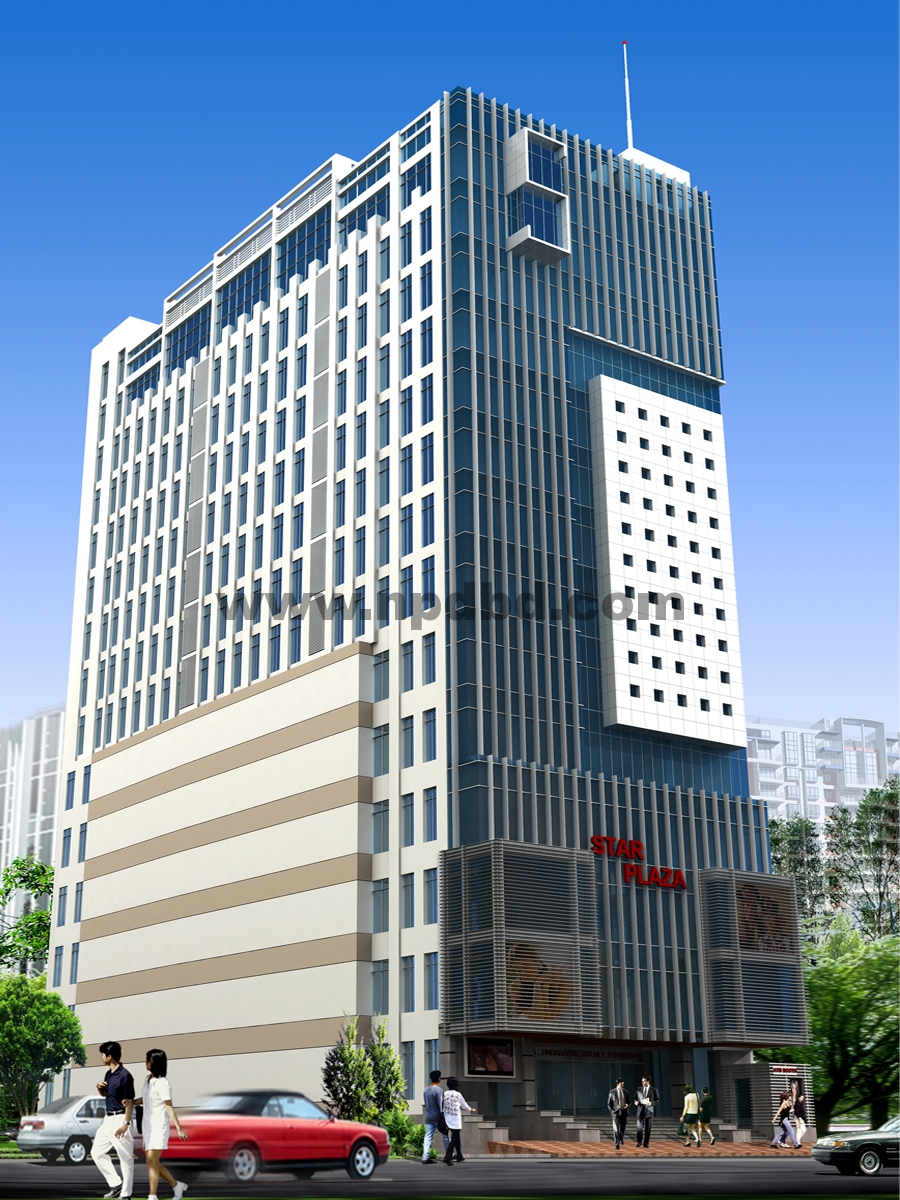 3D View

3D View
More Details:
Project Details
Project Name:
Star Plaza
Building Type:
Commercial
Client:
Star 50 Multipurpose Shopping Mall (Pvt) Ltd
Location:
Zindabazar, Sylhet
Height:
166'-6"
Construction Area:
00 SFT
Ref ID:
97
Work Status:
Ongoing
Service Provided:
Architectural Design
Structural Design
Electrical Design
Plumbing & Sanitary Design
Graphic Design
Full Time supervision
Fire Fighting System Design
Air Conditioning System Design
3D Modeling
Cost Estimation
Description:
Introduction

"Star Plaza" is a 15 (fifteen) storied high rise commercial building with underground parking facilities. It is situated at the heart of the Sylhet city Zindabazar at main road, the busiest & important area of the Sylhet city, on a total of 24.86 decimals of lands. Sylhet is a religious city and has named as the spiritual capital of Bangladesh. Thousands of pious saints & gurus has visited this place and were resting in this soil which turns Sylhet a prestigious city. Star Plaza has maintained the international standard & equipped with all modern facilities & amenities in one place, especially considering the visitors and expatriate Bangladeshi Sylheties living aboard. Aristocratic design & fascinating architectural concept, excellent location, modern architecture, complying fire safety regulation and earth quake resistant structure makes this Complex unique in Sylhet city.
"Star Plaza" is designed & is establishing under the direct Supervision of NPDL, a renown architectural & real estate firm in Sylhet.

Location

The project is situated opposite to Bangladesh Krishi bank main branch and just next to Sylhet Custom's office. Sylhet govt. women's college is just minutes away from this location. It is just 5 minutes walking distance from Zindabazar point & Chowhatta point in their respective way and about 10 minutes walking distance from city's zero point, Sylhet Court point. Star plaza is one of the tallest projects in Zindabazar, the heart of the Sylhet city. The project has an excellent road communication with other part of the city and is located at Zindabazar main road which leads to Sylhet Osmani international airport, just 30 minutes drive way through Mazar of Hazrat Shajalal (R). Zindabazar is one of the busiest places of Sylhet, Key places of city such as Bondor bazar, Sonali Bank corporate office, Govt Alia Madrassa, Sylhet Sodar Hospitals, Red Crescent Maternity Hospital, Roads & Highway office, Sylhet women's medical college Hospitals etc all are within walking distance from this complex.


Structural Feature:

• Total foundation and super structure will be designed and supervised by the experienced and professional structural design engineers.
• Building design parameters will be based on Bangladesh National Building Code (BNBC), American concrete institute (ACI) and American Standard of Testing Materials (ASTM) Codes.
• Comprehensive checking and testing of concrete & reinforcement at recognized testing authority such as BUET, SUST, Bangladesh House Building Research Institute etc.
• Fire safety regulation, Earthquake and Wind force intensity has been considered in structural design as per Bangladesh National Building Code (BNBC).
• Foundation Type:– Pile foundation of 24"dia pile with embedded length upto 78 feet from EGL.
• Concrete ultimate compressive strength & reinforcement ultimate tensile strength has been considered as 3500psi and 60,000psi respectively.


Project Brief:
* Project Name: Star Plaza.
Location: Zindabazar, Sylhet
Number of story: 15-Storied.
* Basement floor: Car parking.
* Gr. to 5th floor: Shopping floors.
01. Ground floor for Cosmetics, Gift Items & Toys.
02. 1st floor Sarees and Fabrics.
03. 2nd & 3nd floor Ready Made Items.
04. 4th floor Jewellery, Leather & Shoes,
05. 5th floor Electronics, Computer & Music.
06. Number of Shops: 199 Nos.
Size of the Shop: 65.32sft -1527.76 sft.
* 6th floor: Prayer Area, Office etc.
* 7th to 12th floor: Office space
01. Size of Offices: 637sft -375.72 sft.
* 13th floor: Roof top Restaurant.


General Facilities:

* Centrally Air-conditioned
* Underground Parking Facilities.
* 5 Pairs of Escalators.
* Own Power Facilities / Standby Generator.
* Full of under security Camera.
* 4 Capacious Lifts including a Cargo lift & Capsule lift.
* Completely separates entrance for Shopping Mall, Office & Roof top restaurant.
* Spacious Staircase, emergency exit stair.
* Roof top Multi-cuisine restaurant
* Standby generator service during load shedding.
* Underground water storage tank fitted with multistage lifting pump.
* Concealed wiring with super quality cables & switches.
* Fire fighting system design.


Location Map: