Excelsior Height
at
Ambarkhana, Sylhet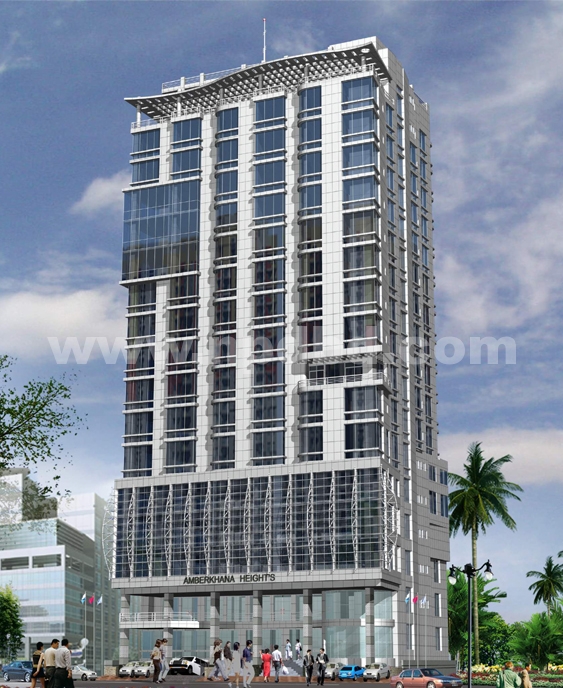 3D Elevation

Night View

Top View

Night View
Project Details
Project Name:
Excelsior Height
Building Type:
Four Star Hotel
Client:
Beltree Development Ltd
Location:
Ambarkhana, Sylhet
Height:
218'-5"
Construction Area:
1,30,745 Sft.
Ref ID:
123
Work Status:
Upcoming
Service Provided:
Architectural Design
Structural Design
Electrical Design
Plumbing & Sanitary Design
Fire Fighting System Design
3D Modeling
Cost Estimation
Description:
"EXCELSIOR HEIGHTS" is a 20 (twenty) storey commercial building situated at Amberkhana, Sylhet, the holy city of Bangladesh. A variety of businesses will be together in one building, includes (a) Excelsior Hotel: a four star 100-room international hotel, Sylhet's tallest and first four star hotel offers the highest standards of service and accommodation at affordable prices. The guestrooms will include standard and deluxe rooms, disability access rooms, deluxe and family suites, and the country's first duplex presidential suits. (b) Excelsior conference and Banqueting: With capacity to sit over 500 guests this venture will add glamour and prestige to any wedding function, conference, and exhibition, or special event. (c) Excelsior leisure: Planned to be the leading health and fitness centre in sylhet offering the latest exotic treatments, top of the rang health club housing a spa, Jacuzzi and sauna. Beauty salon, refreshing swimming pool, and a fitness centre containing all modern fitness equipment. (d) Excelsior Dining:
The rooftop restaurant, occupying the 17th & 18th floor floors of the building, will offer some of the city's finest dining. A spacious outdoor dining terrace overlooking Sylhet city will allow diners to eat outside or relax. The upper floor will contain private dining cabins and meeting rooms. (e) Excelsior Women's world: A truly unique business staffed entirely by women, offering goods and services only for women. This emporium will offer customers the opportunity to shop in privacy, buy the latest fashion accessories, enjoy refreshing hot drinks, and get pampered at the elegant salon and parlour. (f) Excelsior Food court: This will first food court in Sylhet, and offer a range of dining options for guests. Each outlet will serve different delights and there will be ample seating for diners, including family friendly areas.

An investor is welcomed to be prestigious partner of this luxurious dream project. This is a rare opportunity to become a partner in a unique and transparent business venture. Excelsior Heights will offer a unique, once in a life time investment opportunity for individuals looking for a genuine and transparent business venture with the potential for attractive returns. This is first time an investment opportunity will allow people to be partners in several businesses. Investment in Excelsior Heights will bring tremendous personal benefits. Investors should receive generous annual returns, enjoy free accommodation at the luxury hotel, be chauffeured to and from the airport and receive special discount from the services and businesses within the building. Close family members will also be able to benefit from these facilities, allowing investors to gain real benefits throughout the life of their investment.

Location: Excelsior Heights is situated at airport road, amberkhana, one of the key location of sylhet city. It is about 100 yards away from Mazar of Hazrat Shajalal (R). Office of Civil Surgeon, Sylhet Alia Madrasha, Modon Mohan College, Sylhet Auditorium, Sodar Hospital, Sylhet Police Line, Sylhet Radio Station, Office of Deputy Commissioner, Sylhet, Bangladesh Bank, BTCL Office all are within 20 minutes driving Distance. Sylhet Cadet College, Adventure World Park, Porjaton Motel, Sylhet Osmani International Airport is also about 20 minutes drive way from Excelsior Heights.




Key features of Excelsior Heights:

* Tallest building in sylhet, first and only four star hotel in Sylhet.
* Situated on the main airport road in Amberkhana.
* 10 minutes drive from the airport and within walking distance of the centre of sylhet city.
* Tallest rooftop restaurant and garden in the city.
* Disabled accessible building with specially adapted hotel rooms, first ever in sylhet.
* Completely non-smoking commercial building.
* Creating local employment opportunity, empowering local people and supporting charitable projects.


General facilities & amenities:

* Fully Air conditioned building.
* 4 spacious lift.
* Modern Fire fighting system.
* Completely vigilant by CCTV camera.
* 24 hours under security guarding.
* 24 hour back up power facility by standby generator.
* High speed internet access and Wi-Fi in public areas.
* 2 floor under ground parking facility.
* Spacious stair case and fire exit facility.
* Disabled access facility.


Benefits of Investing:

* Owner of the tallest commercial tower in sylhet and all the businesses within it.
* Freehold share of the land and building.
* Up to 28 days free stay at the Excelsior Hotel.
* Hotel stays transferable to immediate family members.
* Free limousine service to and from any airport in Bangladesh.
* Free life term membership of Excelsior Leisure service.
* 24 hour personal support staff during stay at hotel.
* Opportunity to be elected on to the Board of Directors.
* Invited to attend Annual General meeting.
* Up to 25% discount on hotel room booking and all facilities and services.
* Incentives for forwarding new Directors.
* Profile on website, hotel lobby and publications.
* Increase in the value of your investment.



Structural Feature:

• Total project will be designed and supervised by the experienced and professional structural design engineers.
• Building design parameters will be based on Bangladesh National Building Code (BNBC), American concrete institute (ACI) and American Standard of Testing Materials (ASTM) Codes.
• Comprehensive checking and testing of concrete & reinforcement at recognized testing authority such as BUET, SUST, Bangladesh House Building Research Institute etc.
• Earthquake and Wind force intensity has been considered in structural design as per Bangladesh National Building Code (BNBC).

Location Map: