IT Center
at
Zindabazar, Sylhet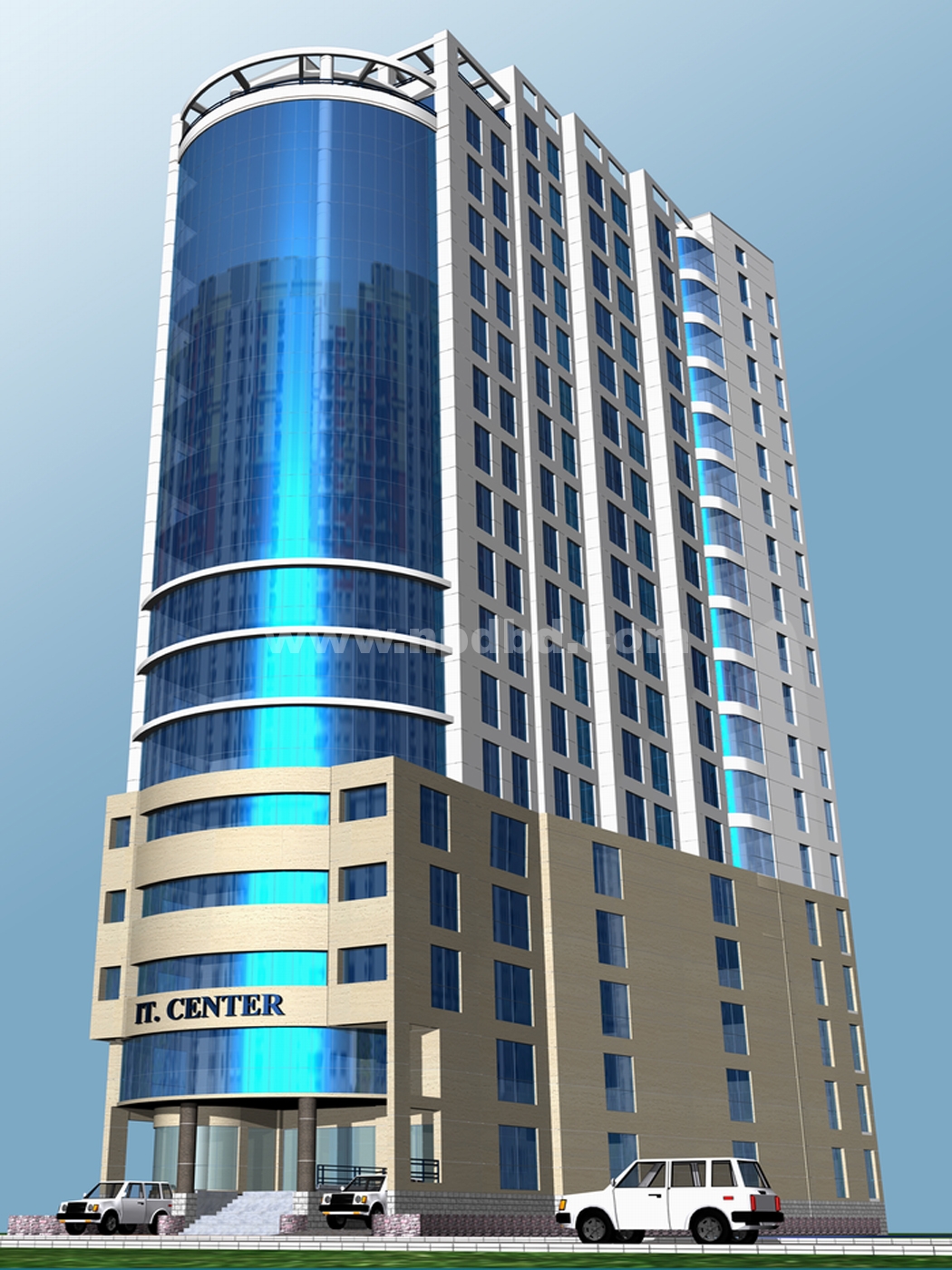 More Details:
Project Details
Project Name:
IT Center
Building Type:
Commercial
Client:
Red Sea Property Developers
Location:
Zindabazar, Sylhet
Height:
Construction Area:
Ref ID:
179
Work Status:
Upcoming
Service Provided:
Architectural Design
Structural Design
Electrical Design
Plumbing & Sanitary Design
Graphic Design
Fire Fighting System Design
Air Conditioning System Design
3D Modeling
Cost Estimation
Description:
"IT Centre" is a name of elegant and international standard Luxurious 20 (twenty) storied high-rise commercial complex located at the heart of the city Zindzbazar, Jallarpar Road, Sylhet in a land area of 16.75 Decimal. Sylhet is being situated at the North-East outskirts of Bangladesh. Excellent hilly terrain, river flow, ever green natural beauty and innate natural landscape of tea gardens makes Sylhet unique from any other city of Bangladesh. Our beloved city has been named as the spiritual capital of Bangladesh. Thousands of Pious Saint and Religious Gurus had visited and ruled over and resting in buried in this soil, turns Sylhet a prestigious and proud full city. At the same time, because of the Sincerity, Hardwork and creativity of our boys, sylhet is now being a city of international standard.

Many entrepreneurs are now being constructing skyscrapers in Sylhet but most of them couldn't fulfill the necessity and demand of the citizen of this city. We are very much ambitious and hopeful and are stretching our steps forward with a colorful dream in the eye and full of brave in the heart that our project will be unique for investment, realistic and will fulfill the demand of future generation, especially the expatriate sylheties.

Insha Allah with the cordial cooperation from everybody, we will build up an ultramodern "IT MARKET" which will fulfill the demands of information Technology in sylhet.



Location: IT-Center is situated at Jallarpar Road, Zindabazar, very close to Zinda Bazar Point. About 100 yards from Sylhet Judge Court, Modon Mohan College & Hazrat Shajalal (R) Mazar Sharif in their respective direction. . It is roughly 30 minute drive way from Sylhet Osmani International Airport. Sylhet Osmani Medical College is about half mile away from it. IT-Center is situated such a place that you can easily catch any sort of transport to travel around sylhet city. Shajalal University of Science and Technology, Sylhet M.C.College & Govt College, Sylhet polytechnic Institute, Jalalabad Ragib Rabeya Medical College, Cantonment Public School is the places you easily travel from this IT-Market.

Project Brief:

* Name of the project : IT-CENTER
* Proposed Building: 20 Storied Commercial Building with Two Basements.
* Area of Project Land: 16.75 Decimal.
* Nature of the Project : Market, Office & Restaurant
* Location of the Project: IT-Center, Zindabazar, Jallarpar Road, Sylhet.
* Registered Office : Red Sea Property Developers, Kazi Manshion
(4th floor),Zindabazar, Sylhet.


Key features of IT-CENTER:

* Tallest building in Zindabazar first and only 20 (twenty) storied IT Market in the prime location of Sylhet city.
* Double Basement parking facilities.
* Ground floor show rooms of different Branded product.
* International standard electronics & computer market.
* Large spaces for office.
* Multi Cuise roof top restaurant.
* Completely non-smoking commercial building.
* Creating local employment opportunity, empowering local people and supporting charitable projects.

General facilities & amenities

* Fully Air conditioned building.
* Spacious lifts.
* Modern Fire fighting system with all necessary equipment.
* CCTV cameras are in full operation.
* 24 hours under security guarding.
* Back up power facility by standby generator.
* High speed internet access and Wi-Fi in public areas.
* Spacious stair case and fire exit facility.
* Disabled access facility.


Benefits of Investing:

* Owner of the tallest commercial complex in Zindabazar, Sylhet and all the businesses within it.
* Owner of each shareholder will own one shop each in this market as well as calculated profit respective to their share.
* Freehold share of the land and building.
* Opportunity to be elected on to the Board of Directors.
* Invited to attend Annual General meeting.
* Incentives for forwarding new Directors.
* Profile on website and publications.
* Increase in the value of your investment.


Structural Feature:

• Total project will be designed and supervised by the experienced and professional structural design engineers.
• Building design parameters will be based on Bangladesh National Building Code (BNBC), American concrete institute (ACI) and American Standard of Testing Materials (ASTM) Codes.
• Comprehensive checking and testing of concrete & reinforcement at recognized testing authority such as BUET, SUST, Bangladesh House Building Research Institute etc.
• Earthquake and Wind force intensity has been considered in structural design as per Bangladesh National Building Code (BNBC).







Location Map: