Habib's Bhaban
at
Dhupadhigir Par (East ), Sylhet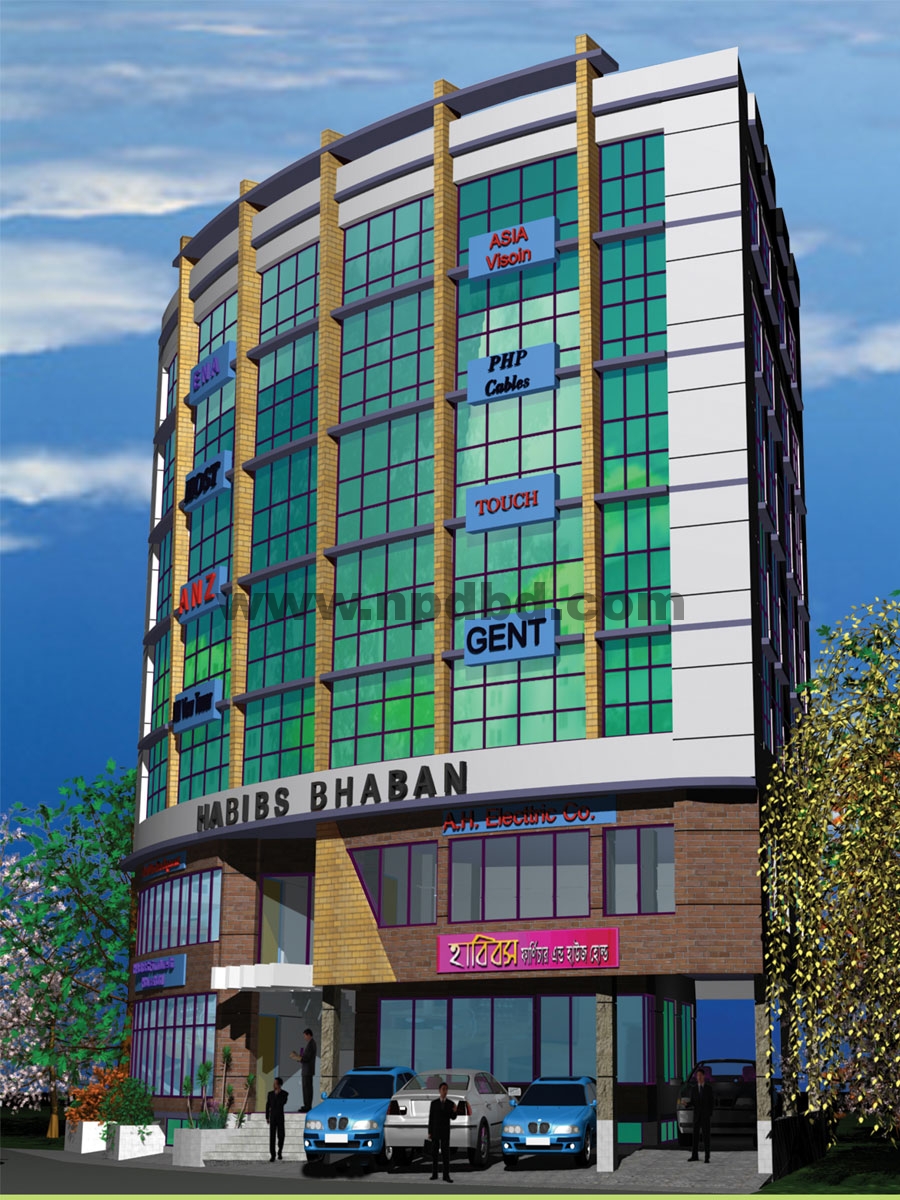 3D View
More Details:
Project Details
Project Name:
Habib's Bhaban
Building Type:
Commercial
Client:
Ishmum Habib Chowdhury
Location:
Dhupadhigir Par (East ), Sylhet
Height:
74'-2"
Construction Area:
13594 Sft.
Ref ID:
102
Work Status:
Completed
Service Provided:
Architectural Design
Structural Design
Electrical Design
Plumbing & Sanitary Design
3D Modeling
Cost Estimation
Survey
Part Time Supervision
Description:

- "Habibs Bhaban" is a 08 (eight) storied commercial complex including a basement. Parking space is allocated at ground floor just right to the main entry. Basement & ground floor are connected by an internal stair. Another stair through main entry goes up to different floors. Basement & ground floor are allocated for departmental store. Other floors from 1st floor to 6th floor are reserved for office space.

Location: Habibs Bhaban is situated just east side of Dupadigirpar on Sylhet_Tamabil Road, Sylhet. Just opposite to Osmani Children Park and very close to Osmani memorial museum.


Briefly "Habibs Bhaban":

Project Name: Habibs Bhaban
Project Address: East Dupadigirpar, Tamabil Road, Sylhet.
Nos.of Floor: 08 (Eight) storied building.
Basement: Departmental store
Ground Floor: Car parking & a departmental store.
1st to 6th floor: Office spaces.


General Facilities & Amenities:

* 01 (One) nos. standard size lift.
* Standby Generator.
* 02(two) Spacious stair cases, one goes up and one connecting basement & ground floor.
* Ample parking facilities.
* Telephone & multi-channel dish connection in each floor.
* Good quality standard glazed tiles for floors.
* Bathrooms fitted with all modern fittings.
* Sliding aluminum windows with 3" standard BTA anodized sections with 5mm clear glass (imported)
complete with lock, roller & mohair lining. Grill and Mosquito net also provided.


Security :

* Spacious entrance and 24 hours security arrangement to control of incoming and outgoing vehicle,
persons, goods etc.
* Round the clock under C.C.TV camera.
* Reception with all modern facilities.
* PABX/ Intercom facility with each apartment.
* Modern fire fighting system. Fire extinguisher, smoke detector & other fire mitigating equipments
will be available in each floor.

Structural Feature:

• Total project will be designed and supervised by the experienced and professional structural design
engineers.
• Building design parameters will be based on Bangladesh National Building Code (BNBC), American
concrete institute (ACI) and American Standard of Testing Materials (ASTM) Codes.
• Comprehensive checking and testing of concrete & reinforcement at recognized testing authority such
as BUET, SUST, Bangladesh House Building Research Institute etc.
• Earthquake and Wind force intensity has been considered in structural design as per Bangladesh
National Building Code (BNBC).

Electrical:
* Concealed wiring with super quality cables & switches. Fan, lights & other electrical
fittings excluded.
* Meters: All apartments will have independent Gas and Electric meter.
* Cable Line: Provision for satellite dish/TV antenna system. Concealed cable outlets in living room
& master bed.
* Telephone Line: Telephone socket outlets in master bed and living room.

Walls & Plaster:

* 125mm thick solid brick walls with well burnt 1st class bricks.
* Proportion 1:6 using 100% Sylhet sand to avoid salinity.
* Sand cement plaster using washed clean medium sand. External plaster shall have admixture to
protect dampness.

Floors: Floor tiles (Fu Wang/Rak/CBC) in all rooms.

Paintings:

* Interior: Distemper of Berger Robbialac of elegant color.
* Exterior: Weather coat / snowcem paint of berger Robbialac or equivalent of elegant color.

Bath Rooms:

* Good quality standard sanitary fittings.
* Glazed tiles (Fu-Wong / RAK/CBC) up to ceiling height in all toilets wall.
* 300mm x 300mm homogeneous tiles (Fu-Wang) in all floors.
* Provision for Hot & Cold water system with head shower in master bathroom (geyser excluded).
* Good quality local made fittings.


Doors :

* Frame: Shilkarai / Telsu wood with lacquer varnish.
* Shutter: Entrance door of solid wood imported from Malaysia / Indonesia. with i) Door Chain, ii)
Check viewer, iii) Apartment No. plate (brass) v) Mortise lock.
* Internal doors shall be of teak chamble veneered partex with lacquer varnish.
* Toilets will have imported uPVC / plastic wood shutter with frame.

Windows :

* Sliding aluminum windows with 3" standard BTA anodized sections with 5mm clear glass (imported)
complete with lock, roller & mohair lining.