Sylhot City
at
Shibgonj, Sylhet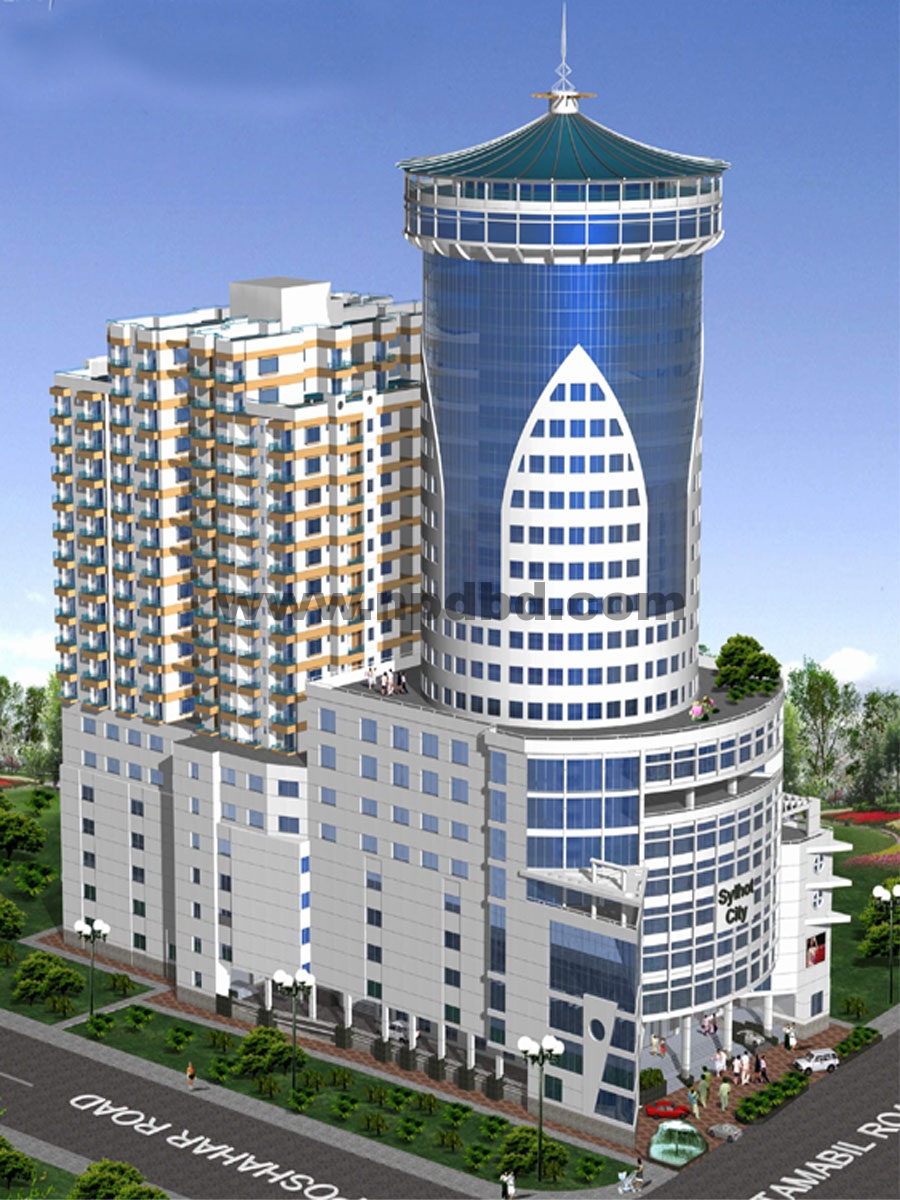 3D View
More Details:
Project Details
Project Name:
Sylhot City
Building Type:
Commercial
Client:
Step Up Associates Ltd.
Location:
Shibgonj, Sylhet
Height:
272'-5"
Construction Area:
Ref ID:
164
Work Status:
Upcoming
Service Provided:
Architectural Design
Structural Design
Electrical Design
Plumbing & Sanitary Design
Graphic Design
Full Time supervision
Fire Fighting System Design
Air Conditioning System Design
3D Modeling
Animation
Cost Estimation
Survey
Soil Test
Part Time Supervision
Description:
-"Sylhot City" is a 25 (Twenty Five) storied commercial cum residential complex situated at Shibgonj on Tamabil road, Sylhet. From the ancient time people used to dreamt to a have a nice dwelling for his own and all of the creation of modern life such as building up of city, port etc i.e. the concept of urbanization is behind of this dream. With the help of creative & artistic concept and wellbeing of Science, Human being step by step advances to the route of civilization leaving the dark & nomadic life behind. All the big cities of today's world are the reflection of this civilization. Peoples of Bangladesh has also not left behind with this scenario, necessity of livelihood and hope of better & civilized life, peoples from every corner of the country are moving towards big cities. Our beloved city, Sylhet is being situated in an excellent location & is being surrounded by river, hilly land & ever green natural beauty at north-east outskirt of Bangladesh. Sylhet is being enriched and named as spiritual capital of Bangladesh as thousands of pious saints has visited & is resting in this soil. At the same time the heartiest & creative endeavor of our boys of Sylhet is now being a city of international standard.

Sylhet city is gradually expanding and depending on this expansion our dream & hope is also extending. Specially considering the NRB Sylheties, we are going to extend our hands with a vast hope & dream. Thousands of NRB are visiting Sylhet each and every month. Due to lacks of suitable places they have fallen into trouble for their basic needs such as shopping, fooding, lodging and recreation etc. Our plan & target is to serve this vast numbers of NRB's & visitors comes from every corner of Bangladesh in one place for their basic needs such as shopping, eating out, living and leisure activity.

We, for the first time, are going to established a twenty five storied luxurious commercial complex in about hundreds decimals lands which includes double basement, star quality hotel, apartments, shopping mall with all of the luxurious facilities. Sylhot City is likes an individual city within the hearts of the city.

An international standard deluxe revolving restaurant will also be establish on the top of our complex, the type which is 1st time in Sylhet and the second project in Bangladesh.
To fulfill the demand of 21st century, we need to establish more advanced and contemporary technological use. We are committed to build up Sylhet city like other most important cities of the world. The source of initiative is the luxury of London city, creativity of New York, delight ness of Sydney and attractiveness of Paris.

Collectiveness of small sand chips can build a continent and drops of water collectively can create a deep sea, so why won't the dedicated hands of a creative team can build their dream collectively. We are very much of sincere and active to make our dream true. Transparency, commitment, strong will and extreme braveness is our capital. We are very much of hopeful and are inviting you to join with this brave people. Your participation &
Expert opinion will make us more committed & dynamic and will help to build success of golden future.



At a glance of "Sylhot City"

 25 (Twenty five) storied commercial building.
 Double basement parking facility with arrangement of about two hundred car space.
 Ground floor allocated for different showrooms of national and international brand.
 Complete four floor shopping complex consisting of about 400nos (four hundreds) shops.
 International standard luxurious star class hotel.
 Ultra- modern revolving restaurant.
 Revolving roof top coffee house and observation centre.
 Luxurious apartment building consisting of 96 nos (Ninety Six) contemporary flats.
 40,000 sft large conference and community hall.
 Child care & recreational theam park for children.
 Separate swimming pool for men & women.
 Separate Gymnasium, health club & billiard centre.
 International standard Bank & ATM both space.
 Centrally controlled air condition facility.
 Earthquake resistant structure, fire fighting system & smoke exhausting system.
 Round the clock generator facility.
 05 (Five) pairs escalator.
 14 (fourteen) Spacious lifts.
 Separate place allocated for prayer.
 Modern security system including C.C.TV.
 Separate entry for Apartment, Hotel, Shopping complex, Community Hall & Restaurant.


The facilities we are offering:

 Each of the share holders will get an apartment or shop of international standard
 A Special discount for share holder's for using of Star class international standard hotel,
revolving restaurant, observation centre, community hall, Conference hall, Gymnasium, Theam
Park & swimming pool.
 Share holders will get proportionate profit when the project will run.